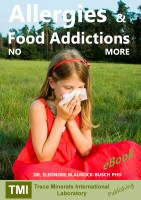 A Self-Help Book for Allergy Sufferers, and all those who want to feel better, physically and psychologically.
This book explains food allergies and how you can alleviate or get rid of your problems. About 1-5% of the total population has food allergies; more than 120 foods are recognized to cause them. This book lists the foods that most commonly cause reactions on a worldwide basis, namely: milk, egg, peanut, tree nuts followed by cereals (mainly wheat), soybeans, fish, and shellfish. It also explains why some foods temporarily cause problems, and others may turn out to be problematic for you throughout life. The book tells you how to identify temporary food sensitivities and genetically-based food allergies.
More often, people with pollen allergy experience allergic symptoms when they eat certain fruits, vegetables or nuts. The author explains why cross-reactions occur and how you can alleviate hay fever symptoms through sensible eating and living. Food addictions are part of the food allergy complex, and you will learn how to manage it all. You will be rewarded by feeling better physically and emotionally.
The book describes how you can reduce food reactions by improving digestive functions. It also explains why some nutritional supplementation can help to reduce allergy suffering. Most of all, the book teaches how to plan a sensible and tasty diet through proper food rotation. Food groups are listed with a diet plan and tasty menus. You will learn why a temporary avoidance of specific foods changes your allergy symptoms into a manageable and temporary problem. Symptoms will disappear, one after the other. With a little discipline in preparing daily menus, you will eventually be able to eat most, if not all foods – without suffering from allergies symptoms. Try it.
About Dr. Eleonore Blaurock-Busch PhD
E.Blaurock-Busch PhD is research director of Micro Trace Minerals Analytical Laboratory Germany and Trace Mineral International Laboratory of Boulder, Colorado and was Assistant Laboratory Director at King James Medical Laboratory, Cleveland, OH. Her specialty is metal toxicology and human nutrition.
She is a founding member and co-chairman of the International Association of Trace Element Research and Cancer, and organizer of the first East-West World Congress on Trace Element and Cancer, held in Beijing, China in 1996. As scientific advisor to the International Board of Clinical Metal Toxicology (IBCMT) she lectured worldwide at medical meetings and universities. As scientific advisor to the German Medical Association for Clinical Metal Toxicology (Deutsche Ärztegesellschaft für Klinische Metalltoxilogie – KMT), she continues to be involved in teaching toxicology to German physicians.
She is instrumental in environmental and laboratory research projects in metal toxicology, including epidemiological studies that evaluated the toxic burden of people of various countries, including India and Saudi Arabia. In 2005, she received the IBCMT (International Board of Clinical Metal Toxicology) Award for Outstanding Service.
She was a guest speaker at radio and TV shows in the US, Germany and elsewhere.
She published several books in German and English at reputable publishers including Prentice Hall (later Simon and Schuster) and Hugendubel. Her many articles were published in various languages in medical and lay journals around the world.
She is a member of the European Academy for Environmental Medicine and the British Society for Ecological Medicine. She continues independent studies at Exeter College, Oxford University, UK.
First 12% Sample: