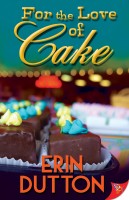 When everything is on the line, and one taste can break a heart, will pastry chefs Maya and Shannon take a chance on reality?
Maya Vaughn, the hottest young pastry chef to emerge from the reality television machine, enjoys spending time with men and women alike. When she takes a turn as a judge on the very show that launched her career, she expects to find a nice change of scenery and a little diversion.
A late-bloomer at forty-two years old, Shannon Hayes is finally on the precipice of achieving her dreams. She has one shot to prove she can compete with chefs half her age with much more experience. Engaging in a fling with a judge fourteen years her junior would almost certainly kill that chance.
About Erin Dutton
Erin Dutton is the author of eight romance novels: Sequestered Hearts, Fully Involved, A Place to Rest, Designed for Love, Point of Ignition, A Perfect Match, Reluctant Hope, and More Than Friends. She is also a contributor to Erotic Interludes 5: Road Games and Romantic Interludes 1 & 2 and revisited two characters from one of her novels in Breathless: Tales of Celebration. She is a 2011 recipient of the Alice B. Readers' Appreciation Award for her body of work.
When not working or writing, she enjoys playing golf and spending time with friends and family.