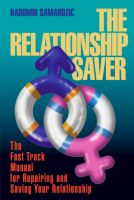 This is fast track manual for saving and repairing relationships and marriages. In about 20 min. you will know exactly what to do, or rather what to stop doing in order to repair your relationship. No need for counseling, reading hundreds of pages of literature on relationships. You will also get 100% unconditional money back guarantee. It is simple effective and it works!
About Radomir Samardzic
Radomir Samardzic
Radomir Samardzic You
Relationships Coach and Author
Location
Greater Los Angeles Area
Industry
Individual & Family Services
Radomir Samardzic I've just posted a new article on my blog. I hope you enjoy it. http://www.help-my-relationship.com 1 day ago
Current
* Owner at DDC Global
Education
* Ekonomski Fakultet
* School of Economics, University of Belgrade
Recommendations
5 people have recommended Radomir
Connections
35 connections
Websites
* http://www.RelationshipSaver.org/
* http://www.GamelessRelationship.com/
* http://www.Help-My-Relationship.com/
Twitter NEW
* Radomir2
Public Profile
http://www.linkedin.com/in/relationshipsaver
Summary
I am a relationship coach specializing in saving, repairing and perfecting relationships.
I have been married to my wife, Antoinette since 1975 and have a daughter of 32. My relationships with my whole family, friends and clients are nothing short of outstanding. I was extensively trained as a communication, teamwork and leadership course leader and facilitator from '95 to '99. Since then I have been working with organizations and individuals.
First 2% Sample: epub mobi (Kindle) lrf