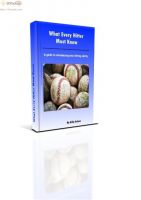 A hitting instructional book for baseball and softball players. The fact-based, time tested hitting development program is one of a kind.
What every hitter must know is just that… the information and development program in the book can be an eternal guide to becoming a quality hitter.
The author Billy Kehoe, a lifelong baseball junkie, did a study in 2004 to find the truth about hitting.
He went into an intensive 14 month study on what the elite hitters do, and more importantly what they ALL do commonly.
Once the information was gathered and shared among some of the games best minds,Billy took his new developmental program on the road. Completing more than 700 events in nearly 30 states, the program has become ever so popular because of the results it creates.
What every hitter must know is the base from which the program is run. Information, instruction, tips… It's a reference guide to elite hitting.
First 20% Sample: epub mobi (Kindle) lrf