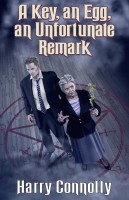 This pacifist urban fantasy, set in Seattle, by the author of the Twenty Palaces series features a sixty-five year old protagonist who is a cross between Auntie Mame and Gandalf.
A MYSTERIOUS KILLING
After years of waging a secret war against the supernatural, Marley Jacobs put away her wooden stakes and silver bullets, then turned her back on violence. She declared Seattle, her city, a safe zone for everyone, living and undead. There would be no more preternatural murder under her watch.
But waging peace can make as many enemies as waging war, and when Marley's nephew turns up dead in circumstances suspiciously like a vampire feeding, she must look into it. Is there a new arrival in town? Is someone trying to destroy her fragile truce? Or was her nephew murdered because he was, quite frankly, a complete tool?
As Marley investigates her nephew's death, she discovers he had been secretly dabbling in the supernatural himself. What, exactly, had he been up to, and who had he been doing it with? More importantly, does it threaten the peace she has worked so hard to create? (Spoiler: yeah, it absolutely does.)
About Harry Connolly
Child of Fire, Harry Connolly's debut novel and the first in The Twenty Palaces series, was named to Publishers Weekly's Best 100 Novels of 2009. The sequel, Game of Cages, was released in 2010 and the third book, Circle of Enemies, came out in the fall of 2011.
Harry lives in Seattle with his beloved wife, his beloved son, and his beloved library system. You can find him online at: http://www.harryjconnolly.com