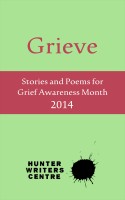 An Anthology of 80 stories selected by the judges of the Hunter Writer's Centre Grieve Writing Competition in honour of Grief Awareness month (August).
About Hunter Writers Centre
Hunter Writers Centre is a not-for-profit incorporated organisation established in 1995 and is the region's leading literary centre committed to developing and supporting the artistic and professional development of aspiring, emerging and established writers. The Hunter Writers Centre is located in City Library, Laman St, Newcastle.
First 5% Sample: epub mobi (Kindle) lrf