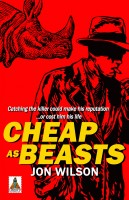 When a client is murdered, PI Declan Colette contends with her filthy rich family, a rival detective firm, and a mystery stretching back into the chaos of Vichy France.
Like most soldiers, Declan Colette lost his fair share in the war—in his case a sailor, drowned off Iwo Jima. Since then he's been scratching out a living as a cut-rate PI, drinking too much, and flirting with danger. Then a girl arranges to consult him, only to be murdered en route, and the cops tag Colette as their prime suspect. To save his neck he'll need to find the real killer, a quest that pits him against a rival detective firm, a dangerously rich family, and a desperate foe whose murdering ways started back during the war.
Could this be the case he's been waiting for? Catching the killer could make his reputation. Failing, could cost him his life.
Either way: win-win.
About Jon Wilson
Growing up, Jon Wilson wanted to be a stunt man, a professional wrestler, or a rodeo clown. After breaking his neck in 2001, he decided writing might be safer.
He was wrong.
The author of three novels, he currently resides in Northern California.