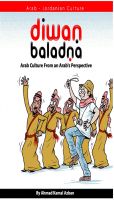 A light and humorous–yet informative–look at Arab culture through an Arab's eyes.
The first book about Arab and Jordanian culture from an Arab perspective, Diwan Baladna (Our Country's Meeting Place) delves deep into the traditions of the Arab peoples of Jordan. Diwan Baladna explains Arab culture from an Arab's perspective in a light and humorous, though informative and well-researched way. Written by a native of Jordan, Diwan Baladna is a valuable guide to anyone interested in Arab studies or visitors to the Middle East.
About Ahmad Azaban
Through the last several years of teaching Arabic as a second language to Westerners, I've seen many people struggle with difficulties due to cultural misunderstandings. To help my students thrive in their new home, I began to teach them about Arab-Jordanian culture. The help that they received encouraged me so much that I began a quest to compile the most relevant cultural information into one resource. Through years of observations, interviews, and research, my dream to help Westerners understand this great culture has come to fruition.
I am pleased to present to you, Diwan Baladna.
It is the first book of its kind. As a Jordanian, I want to bridge the gap of understanding between my own culture and that of our Western friends. Diwan Baladna is a resource that can do just that. Within its pages I cover a multitude of topics including: an explanation of weddings and marriage, funerals, the "evil eye," why moustaches are important ,rumors, and much, much more.
First 20% Sample: epub mobi (Kindle) lrf