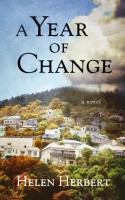 A heart warming story concerning the lives of a number of well-drawn characters living in Christchurch, New Zealand. Love, loss, despair and success are universal themes but are differently depicted according to the story teller.
.A Year of Change begins in a hillside suburb of Christchurch, New Zealand and tells the story of some of the residents over the period of one year. As with any group of people they have their similarities and their differences.
Eleanor Chandler, in her eighties, is pompous and a snob. She looks down on the likes of Kay Smith, in her forties, a newcomer to the area and at the bottom of the social, economic ladder with a husband in gaol.
Her neighbour, John Fox, originally a migrant from the UK, is nouveau riche and self-satisfied. His wife, Barbara, is in her 40's and childless after twenty years of marriage,
David and Jill Hughes are friends and neighbours of John and Barbara. Their lives have been circumscribed by Jill's health which has been precarious since before they married. Fiona and Alec Cameron are in their fifties, the backbones of society, giving service to the community in a variety of ways. Of all the residents they are perhaps the most contented. Hannah Naseby, an unmarried, retired Educational Psychologist in her sixties, has just returned from some years in the U.K. She is friendless and rather uncommunicative when the story opens, but her life changes when she befriends Jessie, an unmarried mother. Find out how all the characters relate and how their lives change because of it.
First 20% Sample: epub mobi (Kindle) lrf