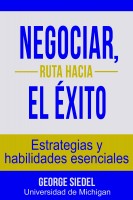 Esta guía práctica de la negociación personal y comercial va más allá de la fase de negociación propiamente dicha, cubriendo íntegramente el proceso desde la toma de decisión a favor de la negociación, a través de la evaluación del desempeño de la misma.
Todos negociamos de manera diaria. Negociamos con nuestras esposas, hijos, padres y amigos. Negociamos cuando alquilamos un departamento, compramos un coche o aplicamos a un puesto de trabajo. Tu habilidad para negociar debería ser el factor más importante en tu carrera.
La negociación además es clave para el éxito de los negocios. Ninguna organización puede sobrevivir sin contratos que generen ganancias. A un nivel estratégico, los negocios están estrechamente vinculados con la creación de valor y la consiguiente consecución de ventajas competitivas. Pero el éxito de las estrategias comerciales de alto vuelo dependerá de los contratos celebrados con proveedores, clientes y socios comerciales. La capacidad de contratación, esto es la habilidad de negociar y lograr contratos exitosos, es la función más importante de toda organización.
Este libro ha sido concebido para ayudarte a alcanzar resultados exitosos en tus negociaciones personales y en tus transacciones comerciales. Es único desde dos perspectivas: por un lado, no sólo cubre conceptos de negociación, sino que también proporciona acciones prácticas a seguir en futuras negociaciones, incluyendo una lista de chequeo para la planificación de la negociación y un ejemplo práctico de esa lista de chequeo completa.
También incorpora: (1) una herramienta de evaluación de tu estilo personal; (2) ejemplos de "árboles de decisión", útiles para calcular tus alternativas en caso de frustración de la negociación; (3) una estrategia de tres etapas para incrementar tu poder durante la negociación: (4) un plan práctico para analizar tus negociaciones en consideración a distintas variables, entre ellas tu precio de reserva y zona de probable acuerdo, entre otros; (5) lineamientos claros en estándares éticos aplicables a la negociación; (6) factores a considerar al decidir si deberías negociar a través de un agente; (7) herramientas psicológicas que puedes utilizar, y modos para eludirlas si las plantea la otra parte; (8) elementos esenciales del Derecho Contractual; y (9) una lista de chequeo de factores a utilizar cuando evaluas tu desempeño como negociador.
En segundo término, el libro es único en cuando propone un enfoque global y general para todo el proceso de la negociación. Otras obras se focalizan sea en la negociación, o bien en el Derecho Contractual, concentrándose en este último caso, en cuestiones y requisitos específicos desde el punto de vista legal para que un contrato sea válido, sin considerar otros aspectos.
En el mundo en que vivimos, el proceso de contratación no puede ser desmenuzado en fases o compartimentos estancos. Lo que ocurre durante una negociación tiene un impacto profundo en el contrato y en el desempeño consiguiente. El contenido legal del contrato debería reflejar lo que sucedió en el marco de la negociación. Este libro, a diferencia de otros, cubre íntegramente el proceso de negociación en orden cronológico, comenzando con tu decisión de negociar, continuando con la evaluación de tu propio desempeño como negociador.
Una ejecutiva de negocios que concurrió a un seminario de negociación dictado por el autor de este libro ha dicho: "La vida es negociación!" Y es cierto, ya que como madre de hijos pequeños y, a la vez, líder de una empresa, la ejecutiva advirtió que las negociaciones se infiltran en nuestras vidas privadas y profesionales. Con este énfasis, y asimismo con el mencionado orden cronológico y su enfoque general, el libro proporciona una hoja de ruta que podrás utilizar al "navegar tu vida como negociador".
About George J. Siedel
George Siedel is the Williamson Family Professor of Business Administration and the Thurnau Professor of Business Law at the University of Michigan. He teaches negotiation in the MBA program at Michigan's Ross School of Business and in seminars around the world to business leaders, entrepreneurs, attorneys, physicians, athletic directors, and judges.
Professor Siedel completed his graduate studies at the University of Michigan and Cambridge University. He has served as a visiting professor at Stanford University and Harvard University and as a Visiting Scholar at University of California, Berkeley. As a Fulbright Scholar, he held a Distinguished Chair in the Humanities and Social Sciences.
Professor Siedel has received several national research awards including the Maurer Award, the Ralph Bunche Award, and the Hoeber Award. He has also received numerous teaching awards, including the 2014 Executive Program Professor of the Year Award from CIMBA, a consortium of thirty-six leading universities committed to international education.