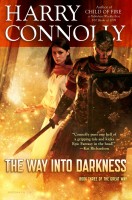 Book 3 of The Great Way, the trilogy concludes as Tejohn and Cazia struggle to find a weapon to use against The Blessing, and to find the power that unleashed them onto Kal-Maddum.
"Epic Fantasy that reads like a Thriller." — Kat Richardson, author of The Greywalker series
BOOK THREE OF THE GREAT WAY: What was once the Peradaini Empire is now a wasted landscape of burned, empty cities and abandoned farmlands. The Blessing, now more numerous than ever, continues to spread across the continent, driving refugees to the dubious safety of the city walls. Unharvested crops mean that few strongholds have enough provisions to last the winter, although most know the grunts will take them before starvation will.
But hope survives. A piece of stolen magic just might halt the spread of The Blessing if Tejohn and Cazia can find a scholar with the skill to recreate the spell. If such a person still lives.
Unfortunately, they are nearly out of time. The few remaining human enclaves are isolated and under siege. Worse, The Blessing has spread to other sentient creatures. If Cazia and Tejohn are going to strike back at their monstrous enemy, they can not delay.
And there's another, deeper question left unaddressed: where did The Blessing come from, and why have they invaded Kal-Maddum?
The Way Into Darkness is the final book in The Great Way, wrapping up the story begun in The Way Into Chaos and continued in The Way Into Magic.
About Harry Connolly
Child of Fire, Harry Connolly's debut novel and the first in The Twenty Palaces series, was named to Publishers Weekly's Best 100 Novels of 2009. The sequel, Game of Cages, was released in 2010 and the third book, Circle of Enemies, came out in the fall of 2011.
Harry lives in Seattle with his beloved wife, his beloved son, and his beloved library system. You can find him online at: http://www.harryjconnolly.com