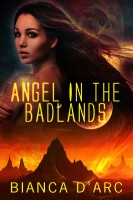 Zeke crash lands on a desert planet. Angela finds him unconscious, and takes him below ground for treatment. Angela's people are hiding from humanity's enemies, but now it's a race to see who'll get there first – Zeke's reinforcements, or the aliens. Note: This novella was previously published under the title "Ezekiel" and has been substantially revised for this new edition.
Is she an apparition or is she real?
Crash landing on an uncharted planet, Ezekiel Amber sets out across a desert, looking for help. What he finds is salvation in the form of a woman.
Angela finds the handsome, unconscious man and takes him below ground, where the heat of the desert does not reach. She nurses him back to health, trying hard to ignore the attraction between them.
Angel's small community must be protected from humanity's alien enemies. Likewise, Zeke must protect Angela – his angel – the one woman he wants like no other in the universe.
It's a race to see who will get there first – Zeke's reinforcements or the aliens – and the fate of the human race could hang in the balance.
NOTE: This story was previously released under the title Ezekiel, which is now out of print. It has been substantially revised for this re-release.
About Bianca D'Arc
A life-long martial arts enthusiast, Bianca enjoys a number of hobbies and interests that keep her busy and entertained such as playing the guitar, shopping, painting, shopping, skiing, shopping, road trips, and did we say… um… shopping? A bargain hunter through and through, Bianca loves the thrill of the hunt for that excellent price on quality items, though she's hardly a fashionista. She likes nothing better than curling up by the fire with a good book, or better yet, by the computer, writing a good book.
First 10% Sample: epub mobi (Kindle) lrf