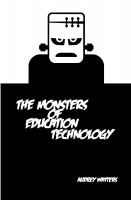 A collection of essays about education technology: its history and its ideologies and its monsters. These essays were originally delivered as lectures during 2014 but have been edited and compiled here.
A collection of essays by ed-tech's "Cassandra" Audrey Watters, this book contains talks and tales of education technology: its histories, mythologies, ideologies, and monsters. Each chapter was originally delivered as a lecture during 2014.
About Audrey Watters
Audrey Watters is a writer who focuses on education technology – the relationship between politics, pedagogy, business, culture, and ed-tech. She has worked in the education field for over 15 years: teaching, researching, organizing, and project-managing. Although she was two chapters into her dissertation (on a topic completely unrelated to ed-tech), she decided to abandon academia, and she now happily fulfills the one job recommended to her by a junior high aptitude test: freelance writer. She has written for The Atlantic, Edutopia, MindShift, Inside Higher Ed, The School Library Journal, The Huffington Post, and elsewhere, in addition to her own blog Hack Education. She is currently working on a book called Teaching Machines. No really. She is.
First 10% Sample: epub mobi (Kindle) lrf