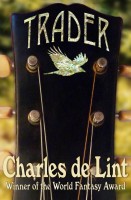 Max, a renowned guitar-maker lives a solitary quiet life in Newford. Johnny is a small-time con man. When they inexplicably wake up in each other's bodies, Johnny welcomes Max's stable life, leaving Max with the shambles of Devlin's. Penniless, friendless and homeless, Max eventually finds himself in a strange otherworld where he must confront his past, future and the very essence of his identity.
What is truly important, and what is truly you, when everything is stripped away? In this evocative novel, we meet Max Trader, a renowned guitar-maker living a solitary, quiet life; and Johnny Devlin, a small-time con man out to scam anyone, including his girlfriend. When they inexplicably wake up in each other's bodies, Johnny happily moves into Max's stable life, leaving Max to contend with the shambles of Devlin's. Penniless, friendless and homeless, Max is forced into a new existence as a homeless person, leading him eventually to a strange otherworld where he must confront his past, future, and what makes up the very essence of his identity. De Lint fans will enjoy time spent with a host of beloved Newford characters, including Jilly, Geordie and Joseph Crazy Dog (aka Bones), among others.
Featuring a new afterword unique to this edition.
A master of urban fantasy returns with one of his finest works. One morning, a quiet, responsible luthier (guitar-maker), Leonard Trader, wakes up in the body of charming ne'er-do-well Johnny Devlin. At the same time, Devlin takes over Trader's body. Devlin starts cutting a swathe through the money, women and liquor in Trader's circle, while Trader has to struggle for survival on the mean streets while trying to figure out what happened to him and what he can do about it. This quest takes him (as such quests have taken many of de Lint's characters) into what is in, in effect, a marvelously wrought land of Faerie. De Lint (Memory and Dream, etc.) builds his story from a succession of well-chosen and well-expressed details. He eschews herding his lead characters into some grand, eternal arena; nothing is at stake here except their personal fates. Devlin and Trader are made so sympathetic in de Lint's seasoned hands, however, that the lack of a cosmic stage for their drama doesn't detract one bit from their wholly engaging adventures.
—Publishers Weekly
De Lint is a master at world building, at creating the apt image, and at making grippingly suspenseful a story in which the fate of the characters may have no cosmic significance but is vitally important to them and their closest friends. It is hard to imagine urban fantasy done with greater skill, even by de Lint himself.
— Booklist, American Library Association
…de Lint skillfully handles Trader's coming to terms with his new existence, drawing a realistic portrait of a man suddenly robbed of his identity and the physical trappings that come with it. Although the loss of self evokes terrifying possibilities and primal fears, de Lint has written a contemplative book, realistically triumphant, that suggests life is meant to be lived, not merely worn.
—The Globe and Mail
De Lint weaves complicated patterns with the thoughts and lives of his characters before he brings them in contact, and anywhere near a conclusion. He draws such deep and heartfelt characters that think and breathe like people rather than pages. Recommended thoroughly.
—British Fantasy Society Bulletin
…a work of great imagination, beauty, and inspiration and should be read by anyone who feels either too restless or too comfortable in his lifestyle.
—The Montreal Gazette
De Lint possesses a broad-shouldered storytelling skill which moves the narrative steadily, relentlessly forward.
—The New York Review of Science Fiction
De Lint is a perceptive writer. He has a knack for the small details that make up a person's life, and he also captures the varying opinions of his large cast of characters.
Trader is a great book, well-written … and fascinating from beginning to end. Highly recommended.
—The SF site
About Charles de Lint
Charles de Lint is the much beloved author of more than seventy adult, young adult, and children's books. Renowned as one of the trailblazers of the modern fantasy genre, he is the recipient of the World Fantasy, White Pine, Crawford, and Aurora awards. The first book of the Wildlings trilogy, Under My Skin, won the 2013 Aurora Award for Young Adult Fiction. De Lint is a poet, songwriter, performer, and folklorist, and he writes a monthly book-review column for the Magazine of Fantasy & Science Fiction.
De Lint and his wife, MaryAnn Harris, a fellow artist and musician, recently released companion CDs of their original songs, samples of which can be heard on de Lint's website. They live in Ottawa, and their respective websites are http://www.charlesdelint.com and http://www.reclectica.com.
First 20% Sample: epub mobi (Kindle) lrf