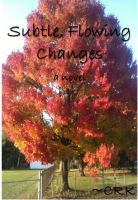 The book is now available for purchase for $2.95. 10% of total profits made in October-December 2014 will be donated to a local animal shelter that helps injured or sick wildlife. Please spread the word!
(~CRK's debut novel about dealing with the little changes in life)
The book is now available for purchase for $2.95. 10% of total profits made in October-December 2014 will be donated to a local animal shelter that helps injured or sick wildlife. Please spread the word! Also, if you'd like to just read the book or share the novel, the entire book shall be on sample for free.
Cera Brandenburg, a junior in high school, hates changes more than anything else. So, naturally, once she and her parents move to the city, Cera is filled with nothing but dread. She can't stand public school, and she's constantly bothered by a bubbly girl named Mariah who wants to be her best friend.
After going along with Mariah's Friendship Club, Cera learns that the club ploy is a disguise for counseling. Not only that, but Mariah has plans for Cera to change herself! Poor Cera cannot escape Mariah's concern, and she is trust into a new world of secrets and friendship–all while the dark secrets of the esoteric city loom in the background.
The book includes extras about the author and upcoming books
This is the first book in the SFC Trilogy
About ~CRK
ABOUT ME *UPDATED 7-13-14*
My name is Claire Katsion, but you may call me ~CRK, which is my unique pen name for my equally-as-unique self. Not knowing where to turn in this hard world of publishing, I decided independent e-publishing would be the easiest way for me to get my foot in the door.
If you like my works, please feel free to download/buy them and to tell your friends!
EVERYTHING I publish here now will be free for you to download and to read. Please enjoy my free content on this site and share my books with your friends and family if you enjoy them. It means the world to me that people are reading my books. And please take a few minutes to leave a review or short comment on the books or stories you enjoy. I love reading them; it makes me smile knowing my words touch others.
If I had to describe my style, I honestly couldn't put it to words, so I hope you will read "Flicker," my first published short story (for free!) to get a feel for my style and wording.
Thanks for reading!
GOOD NEWS AND FUN STUFF
*ATTENTION ALL READERS!* (September 18 update/announcement)
Coming October 2014, I will be making my novel (Subtle, Flowing Changes) available to be bought for $2.95. Why am I doing this? I love helping local animal shelters and wildlife refuges, so I am offering a special in which 10% of total proceeds from the book will go to Fox Valley Wildlife in Elburn, Illinois! It is a lovely place, and I have provided them baked goods to sell during their fundraisers the past few years. This year, I decided to do something special and offer my e-book instead. An advertisement for SFC will appear in their newsletter, as well.
I just wanted to let you all know this in case you became concerned that the price was suddenly altered. Please keep this in mind and share the love for our furry friends! Like, share, and purchase the book when it becomes available for $2.95!
In addition, I shall be adding prices to my books from now on because I am trying to pick up some extra money. Please be assured that the free short stories shall ALWAYS stay free. I promise. A new short story to add to the growing trend will be posted before the end of this year. Thanks for the 100 downloads once again!! Please stay tuned for more updates…
I will be posting updates on writing and my thoughts on both my blog (on occasion) and this site (more often) in short bursts…kinda like on Twitter.
http://penguingirl1210.tumblr.com/
*Thanks for the 100 downloads/reads on The Adventures of Maryan! If we hit 250 reads/downloads, I will publish another Maryan book that will include bonus stories and more fun projects!*
*Thanks so much for the 50 reads/downloads of my first novel! I will try my best to finish the sequel and to publish it sometime early next year (around May 2015). As I do not hire any editors, I edit and proofread the documents myself, so that takes some extra time. Thanks for being patient. For now, please continue to support my novels!*
If you'd like to read some other things I write (or see sneak peeks of new books), please check here:
http://figment.com/users/193626-PENGUINGIRL1210-CRK-
UPCOMING BOOKS:
Step by Step (SFC Trilogy book 2)
Friendship Club returns!
Elaine and her brother, Corey, must attend school in Esoteria because their private school went bankrupt and closed. Distraught, Elaine finds a friend in Mariah, a fellow poet, and they both help each other with their respective troubles.
Look for it in 2015
SAMPLE HERE! http://figment.com/books/735774-Step-by-Step
ZCN & Friends: Adventures in I*V (ZCN/TIES Series book 1)
ZCN and her friends embark on grand adventures in Imaginationville and beyond once all the secrets surrounding Imaginationville are revealed to ZCN.
Look for it in 2016
SAMPLE HERE! http://figment.com/books/699176-ZCN-TIES-book-1
The Fancy Ladies' Club, a book series for little girls (3rd and 4th grade)
Catherine becomes interested by becoming a fancy lady, and she starts a club with some friends.
Book 1 will be published sometime in November 2014
(Sorry for the wait; I am taking extra time to edit it and make sure it is of the best quality possible!)
First 20% Sample: epub mobi (Kindle) lrf