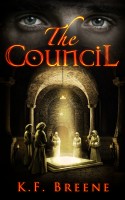 Stefan and Sasha present themselves to the Council, hoping to gain their support and favor. Unfortunately, just meeting them is far from enough. Each must proof themselves in an arena of violence and magic, fighting terrible odds just to stay alive. And just when they think they are making headway, Andris escapes. Soon Stefan's entire clan is in a fight for their lives.
With Sasha as the proclaimed Mage of high ranking power, she can't just slip under the carpet to a peaceful existance. Instead, she must present herself to the Council, a group of white mages who reside over the magical community, governing Stefan's people. There she must prove she has what it takes to be the mage of Stefan's clan, not something easily done.
Stefan, too, has been noticed by the large faction of rulers. An alpha leader with a firm hold over his people, he has outgrown in his position, and it shows. Ties to a human mage with a vast well of power, though, has made him a target. Sasha is sought after, and those who want to harness her power will take her by force if necessary.
With Dominicous' and Toa's help, Sasha and Stefan must face the trials coming up. Proving themselves is the easy part. Getting out with their lives becomes the challenge.
About K.F. Breene
K.F. Breene is the best-selling author of contemporary, fantasy and paranormal romance novels, having sold over 300,000 copies worldwide. When she's not writing, you might find her at a café, sipping wine and chatting with her girlfriends. She lives in San Francisco with her two children, one of which duped her into thinking he was a grown man. That was before her daughter came along, of course. She loves to hear from readers, so drop her a note at kfbreene@gmail.com.
Check out her books or other odds-and-ends at her website: kfbreene.com, or her thoughts at her blog: kfbreene.org.
Sign up to her mailing list for new books and an exclusive preorder sales: http://www.kfbreene.com/newsletter.html
First 20% Sample: epub mobi (Kindle) lrf