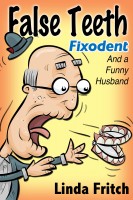 Sometimes life smacks you in the middle but if you can learn how to laugh after you finish crying, you will make it. This is a book filled with teasing, good humor and downright belly wobbles you can actually read out loud to your friends.
About Linda Fritch
Linda is an award winning writer and holds five accredited degrees, one of which is in Journalism; and the last being a Doctor of Ministry. She has worked for a daily newspaper and had her articles and stories published in various magazines and periodicals. She has written forty study courses for the college in South Africa; four other colleges throughout Africa also use these courses. She is currently a professor at the School of the Spirit in Shawnee, Oklahoma.
Linda is married to Ron Fritch and together they have pioneered two churches, evangelized fulltime, taught at two Bible Colleges and were missionaries to South Africa for seventeen years where they established a four-year, degree-granting Theological College.
Linda considers her greatest accomplishments to be a marriage lasting fifty years, three children, Michelle Pace, David and Chris Fritch all serving the Lord in ministry and music. And she greatly enjoys her four grandchildren, Gabrielle and Moriah Pace, who also sing and play piano and guitar and twin grandsons, Isaiah and Josiah Fritch, just over three-years-old with the rhythm already in their soul. A new grandchild is expected in March, 2015.
First 15% Sample: epub mobi (Kindle) lrf