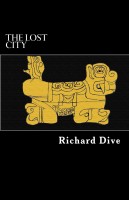 "A storm is coming…"
The epic third entry in the Holder of the Key series takes the adventure deep into the Amazon rainforest, where the remains of an ancient civilization are rumored to lie.
"A storm is coming…"
Nine months have passed since the Nunavut incident, nearly a year since Adam Thorne found himself in possession of the coveted Key of Elysia, saddled the burdens that come from bearing such an object. It has changed him in ways he cannot understand, and mere possession of the Key has marked him the target of a dangerous organization known as The Alpha Initiative, who have sworn their return.
An unexpected lead in the search for more Elysian artefacts will force Adam to find the truth about what happened to his mother, a documentarian who lost her life hunting for an ancient people known as the Alfexa deep within the Amazon rainforest fifteen years earlier. This lost civilization may be the key to unlocking the mystery of the Elysians, but such knowledge has a high price. He is not the only one searching.; from the shadows, a corruption draws near.
About Richard Dive
Richard Dive is an author based in Sydney, Australia, though if nobody is keeping a close eye on him he tends to wander, sometimes making it as far out as Los Angeles. If found in the wild, one should approach the Richard Dive cautiously, without making any sudden movements. An omnivorous sapient beast, it is commonly believed to be the last of its kind in captivity, as none have been seen in the wild for over twenty years. Whether this is due to overzealous hunting or deforestation is currently unknown. He holds a Bachelor of Creative Arts and International Studies majoring in Creative Writing and Cultural Studies. He is not a licensed dentist, nor does he intend carry the One Ring of Mordor to the dark lord, despite what he may tell you. For more information, consult your local soothsayer and/or oracle.
First 10% Sample: epub mobi (Kindle) lrf