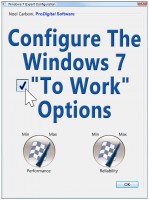 A guide chock full of professional setup and tuning info, secret tweaks, and all the "How To" you need to get the most out of your Windows 7 system.
Our Configure The Windows 7 "To Work" Options guide is a great collection of instructional setup and tuning info, along with specific recommendations for great free tools to work around the things Windows just doesn't do well out of the box – just what you need to leverage your Windows 7 PC into a productive, reliable system.
It started as a set of notes our developers at ProDigital Software have been building up for years to help us quickly set up our own Windows systems and get them to where they are lean, stable, and useful. By the time we had accumulated nearly 100 pages of hard-won information it occurred to us that this amazing collection of tips, tricks, and tweaks could be valuable to anyone looking to get the most out of their Microsoft® Windows® 7 installation, so now we have made it available to you.
If you've ever wanted to get the best possible performance and stability out of a Windows 7 system, you NEED this guide!
Published as an inexpensive eBook in all the popular formats, get this guide today!
About Noel Carboni
I have engineered computer software dating back to the mid 1970s, including mainframes and the first 8 bit micro systems, to PCs, to all manner of custom controllers and systems. I've implemented (and managed groups of Engineers who implemented) operating systems, embedded software, and PC software. I have been in charge of Engineering processes and Configuration Management, and now own my own software firm with sales worldwide.
First 20% Sample: epub mobi (Kindle) lrf