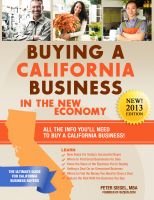 The reduced rate of completed California small business transfers, over the past few years, demonstrates that accepted practices for valuing businesses, getting purchase money and reaching agreements are not working as effectively since 2008. A leading small business sales expert provides business buyers, sellers and brokers with the strategies needed to succeed in the New Economy.
Buyers and sellers of the corner grocery store, delivery service, fast-food franchise, small manufacturing enterprise and the thousands of other types of small California businesses, face new challenges in this, the New Economy. Whether borrowing purchase money, valuing businesses for sale or structuring a buy/sell agreement, entrepreneurs who want to succeed in today's business-for-sale marketplace need to know how the "best practices" have changed since the economic tsunami that started in 2007/2008. While the rate of small business sales in the California has dropped dramatically in the past few years–mirroring employment figures and other economic indices—there is evidence of a slow recovery. It is lead by buyers, sellers and their intermediaries who are able to effectively overcome the problems that leave many other entrepreneurs frustrated, and unable to achieve their objectives. Meanwhile, the market is being transformed by new pressures from the buy side, as more and more people decide that buying a business is a better career choice than taking your chances in the employment merry-go-round. And thousands of business offerings are coming on stream as baby boomer owners decide to retire. This new book, by one of the country's foremost small business sales experts, points out what familiar methods are no longer effective in this quickly changing marketplace. And it explains what successful entrepreneurs are doing to make and close deals. Their strategies form the basis of the way small business buyers, sellers and the professionals who help them will succeed in the New Economy.
About Peter Siegel, MBA
Peter Siegel, MBA, is the Founder and President of BizBen.com, niche online community serving buyers and sellers of small businesses throughout the California market since 1994. In addition to his syndicated blog posts and articles about all aspects of buying, selling and financing the purchase of small and mid-sized businesses, Siegel has authored seven books on these subjects. Through his frequent writings, online webinars and ongoing consulting practice, Siegel provides assistance for thousands of entrepreneurs and professionals involved in California's business for sale marketplace.
Price: $9.99 USD