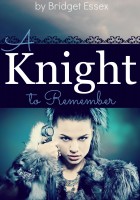 A librarian, a warrior woman, and a love story that's out of this world… Holly is a very normal woman living a very normal life, but that's all about to change. One night, during a very powerful storm, a gorgeous woman appears in her backyard…wielding a sword.
A librarian, a warrior woman, and a love story that's out of this world…
Holly tells herself that the reason she hasn't asked her girlfriend to move in (after four years of dating) is that she's too busy–but it isn't true. A very book-obsessed librarian, Holly has buried herself in so many romantic and magical stories, that at night, she dreams of a woman who will sweep her off her feet–something her indifferent girlfriend has never done. But one night, during an unusually vicious storm, magic and romance appear in Holly's backyard in the form of a mysterious, gorgeous woman…wielding a sword.
The dashing stranger's name is Virago. She claims that she's a warrior on the hunt for a great and terrible beast; that she, and the beast, slipped through a portal from their world into ours. Holly isn't sure what to believe, but she is now responsible for a (possibly crazy) swordswoman who is bewildered by modern-day conveniences like escalators, but not by the chivalry of sweeping a woman off her feet.
Can Holly help Virago find her own world again, or will that falling-in-love thing get in the way? And, of course, there's the tiny problem of the beast Virago wounded that is now seeking revenge…
A KNIGHT TO REMEMBER is a light-hearted, fantastical romance that will take you on a journey you'll never forget. It is approximately 74,000 words (several days worth of reading or so).
About Bridget Essex
Bridget Essex has been writing about her beloved vampires for almost two decades. She has a vast collection of crochet hooks and teacups, and likes to listen to classical music when she writes. Her first date with her wife was strolling in a garden, so it's safe to say she's a bit old fashioned.
Bridget has a black cat she loves very much, and a brown dog who actually convinces her to go outside. Her little house is often much messier than she'd prefer, but she has the perfect excuse: she's a writer. This excuse doesn't work nearly as well on her wife as she'd like.
About the Sullivan Vampires, Bridget has this to say: "I was very frustrated by the lack of serious romance concerning lesbian vampires. Most lesbian vampire stories are erotica, and erotica is wonderful, but I wanted to write something that was romance focused. I wanted to write a sweeping epic love story between two women involving all of the great stuff you can play with when you're writing vampires. Their immortality. The fact that to be with them is incredibly dangerous if you're human. I wanted to write a love story you could fall in love with. And I hope with all of my might that I've done this with my Sullivan Vampires! I've loved writing them so very much—I hope that you enjoy reading them!"
Price: $7.99 USD
First 20% Sample: epub mobi (Kindle) lrf