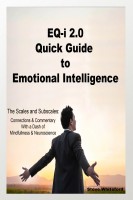 Leadership Consultant/Trainer, Steve Whiteford, offers short but pithy perspectives on the Scales and Subscales of the Emotional Intelligence assessment: EQ-i 2.0. Certified practitioners and enthusiasts alike will benefit from his short takes with training recommendations, thoughts on the cohesive connections through the model, personal revelations, and citings from neuroscience and mindfulness.
Emotional Intelligence has been scientifically recognized as a leading factor in personal, organizational and societal success for well over twenty years. The term was made popular by Daniel Goleman in his seminal best-seller – Emotional Intelligence (1995). Of course, a study of ancient philosophy and religion will reveal extensive reference to many of the same competencies and perspectives now substantiated by modern social science and neuroscience. Reuven Bar-On created the Emotional Quotient Inventory and released the Bar-On Emotional Quotient Inventory (EQ-i) Technical Manual in 1997 through Mental Health Systems (MHS, Toronto, CA). The EQ-i emerged as one of the most strongly validated emotional intelligence assessments, and was subsequently refined and titled EQ-i 2.0. The EQ-i 2.0 has been successfully used in the arenas Executive and Leadership Development & Coaching, Organizational Development, Defining Organizational Culture and Values, New Hire Selection, Team Building, Sales Development, and Personal Growth.
Leadership and Communication Trainer/Consultant, Steve Whiteford, offers short but valued perspectives on the Scales and Subscales of the Emotional Intelligence assessment: EQ-i 2.0. Certified practitioners and enthusiasts alike will benefit from his short takes including training recommendations, thoughts on the cohesive inter-dependencies through the subscales of the model, personal revelations, and citings from neuroscience and mindfulness.
Whiteford's eclectic background and entertaining, conversational style engage the reader and make accessible highly complex material. It's clear that he has studied and learned from the masters, while emphasizing a convergence of ideas, truths, and practical experience. He recognizes (along with leaders in the industry) that the EQ-i 2.0 Model can be a powerful compass for anyone wishing to explore and productively grow their emotional and social skills while increasing their overall success in life.
Here's what some of his readers have said:
"Emotional intelligence is term that you hear a lot about these days. However, when asked to go deeper than just the term itself, the waters can get "murky". Steve has done an excellent job of going deeper by taking the Sub scales of the EQ-i 2.0 and making them refreshingly clear – thus making emotional intelligence much more understandable."
– Dr. Hank Clemons, President, Society for Emotional Intelligence, Tampa, FL
"Asking leaders to dive into the work of Emotional Intelligence can trigger some neuroscience angst just by the language of EI/EQ. Steve Whiteford has the creative ability to translate technical terms into practical strategies for action. Integrating leading edge work from the disciplines of mindfulness, neuroscience and leadership he's been able to design a great guide to help the reader strengthen their EI – like having an EQ coach in your pocket!"
– Laurie Hillis, MA, PCC, CDWF-C, Megatrain Inc., Calgary, Alberta, Canada
"Steve Whiteford has written an outstanding guide for those of us who are not professionals, in understanding Emotional Intelligence. This entertaining and informative book simplifies and provides clarity to a complex assessment and the interconnections of its scales and subscales. It is written in such a way as to provide a way for everyone to increase their emotional intelligence, whether or not they know anything about EQi 2.0. Whiteford's practical knowledge of EQi 2.0 has been a boon to my agency and the case managers we train."
– Ken Martin, Executive Director, Texas Homeless Network, Austin, TX
This booklet will be prove a useful and accessible addition to the reference library of anyone with a passion for Emotional Intelligence and EQ-i 2.0.
About Steve Whiteford
With 25 years' experience as a corporate trainer and coach, I specialize in coaching business professionals and leading workshops in Leadership Development, Emotional Intelligence, MBTI, Executive Presence & Influence, Presentation, Constructive Conflict, Team Building and a broad array of related communication skills. Based in neuroscience and proven practices, I lead clients to greatly increased openness, powerful and effective communication, and embodied leadership.
I have designed and conducted scores of successful workshops for a great variety of companies across many industries. My background also includes sub-contracting for major training firms, consulting in career development, directing and narrating corporate video, segment producing for P.M. Magazine, and performances for stage, film and television. I hold certifications in in EQi2.0- 360, and Leadership, the Myers Briggs Type Indicator, and Results Coaching (NACC).
My articles and interviews have been featured in The Bulletin of Psychological Type, Entrepreneur, TWA's Ambassador, Training & Development Journal, Idea Magazine, Air-America Radio, and local association newsletters. See my web for more!
Price: $2.99 USD
First 10% Sample: epub mobi (Kindle) lrf