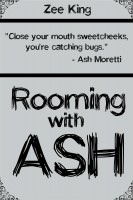 "Why did you change?" I asked.
"Because of this girl I met who loves running from the cops with me. She's pretty damn awesome."
I blushed as I looked up at him. "I think you're a bad influence."
"And I think you like it."
**
One summer in Hawaii is all it takes to change Keira Sullivan's life.
Rooming with the notorious hottie, Ash Moretti, is going to make this a summer to remember.
Price: $3.99 USD
First 23% Sample: epub mobi (Kindle) lrf