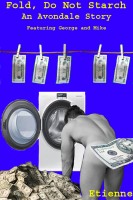 Captain George Martin and his partner Mike Foster face a challenge when an employee of one of Mike's clients tells them some troubling things about his employer. The subsequent investigation eventually uncovers a very large money-laundering scheme.
Meanwhile, while George is preparing for a reorganization in the Sheriff's office that will result in a promotion, his past reaches out to touch him.
Captain George Martin, with the occasional help of his partner Mike Foster, has handled many difficult cases during his career in law enforcement. When an employee of one of Mike's clients reaches out to them for help, they find themselves immersed in the complex world of money-laundering. George launches an investigation that ultimately exposes a money-laundering enterprise that is national in scope.
Meanwhile, the Sheriff is planning yet another reorganization of the department, one that will mean a promotion for George, but will make it difficult for him to have the hands-on experience with cases that he's accustomed to.
Just when he thought his plate was as full as it could possibly be, someone from his past rings his doorbell one evening, and his and Mike's lives are transformed once again.
About Etienne
Etienne lives in central Florida, very near the hamlet in which he grew up. He always wanted to write but didn't find his muse until a few years ago, when he started posting stories online. These days he spends most of his time battling with her, as she is a capricious bitch who, when she isn't hiding from him, often rides him mercilessly, digging her spurs into his sides and forcing the flow of words from a trickle to a flood.
Price: $5.99 USD
First 15% Sample: epub | mobi (Kindle) | lrf