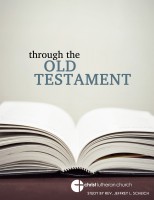 "Through the Old Testament" will guide the reader through the whole Old Testament in one year, not reading from Genesis – Malachi but reading the books / portions of books in their historical order and context. It is designed to help the reader have daily devotions, reading five days per week and then gathering as a group for study / questions / answers over the material covered each week.
About Jeffrey Scheich
Jeff is married to Melinda and they have three children. He's a pastor in the Lutheran Church-Missouri Synod. For 15 years he served at Our Savior Lutheran Church in Fishkill NY, and then in 2000 he accepted a call as Associate Pastor at Christ Lutheran Church in Lincoln NE. There he is the leader of the Family Life and Education Team, and as such helped start Christ Schools in 2003. Since 2004 he's has had the awesome privilege of seeing Room211, a ministry of Christ Lutheran, grow from a dream to a reality, serving as its lead pastor, now ministering at two sites in the city. He has a passion for reaching people who are seeking a relationship with the Lord, and for helping people to grow in faith through good biblical teaching.
Price: $10.00 USD
First 3% Sample: epub | mobi (Kindle) | lrf