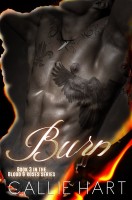 Sloane Romera is getting closer to finding her sister, but there are obstacles standing in her way.
Big ones.
Julio Perez isn't happy with Zeth. The couple's presence in his compound is creating tension, and the gang lord is determined to figure out what they're hiding. When people start arriving for Julio's gathering, things take are bound to take unexpected and dangerous turns.
Sloane
I'm not safe.
I haven't been safe for a while now.
I ran to Zeth for protection, but Zeth is in danger himself. With Julio on one side, and the leader of the Widow Makers MC on the other, the smartest thing to do would be to run. I've been running long enough, though.
This is the closest I've come to finding my sister in two years.
I can't back down now.
Zeth
My right hand man's being tortured in the basement.
The guy who tried to buy Sloane's virginity is burning rubber in our direction.
My psychotic boss is on a mission to find me, and the girl I'm supposed to be keeping safe has landed herself right in the middle of all of this.
Just another breezy weekend in the Californian desert.
What could possibly go wrong in the next 48 hours?
Price: $2.99 USD
First 20% Sample: epub | mobi (Kindle) | lrf