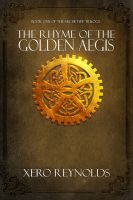 On the world of Calopa, magic and steam-driven science share an uneasy balance. When a mysterious child is discovered by a simple airship crew, that balance, and their lives, are put in peril. Past horrors and new conspiracies threaten, and through it all one prize is sought above all others: the answer to The Rhyme of the Golden Aegis.
On the world of Calopa, magic and technology have an uneasy balance in the wake of two devastating wars; one ended a cruel hereditary magical empire, and the other was the cause of a technological savant named Absalohm, who betrayed the world, and nearly destroyed it. Since then, Calopa has been rebuilding, though the governments of the world have implemented laws based on the fear that Absalohm and his flagship the Golden Aegis inspired.
Bael Halran is an airship captain who's only goal in these strange and uncertain days is the safety of his crew, and avoiding trouble. While on what was supposed to be a follow-up concerning a rumor about possible profit, his crew find something else entirely: a boy with no memory, and a physical connection to Absalohm.
Unfortunately for the crew, they're not the only ones with knowledge about the boy, and they find themselves caught up in a conspiracy of powerful people whose end goal might not only prove lethal for the crew of the Silverhearth, but for all of Calopa. For whomever has the boy might just possess the answer to the greatest puzzle with the most valuable reward ever known.
The Rhyme of the Golden Aegis.
About Xero Reynolds
A bipedal whatsit afflicted with creative ADD, Xero Reynolds has applied his ever-scattered attention span to writing, illustration, music, voice acting, and more for the past decade and change. Xero currently spends his time divided between the various fictional worlds that compete for his attention, and the real life he spends with his wife in Colorado. There, if he can be pried away from his creative pursuits, you might find him biking, exploring the foothills of the Rockies, engaging in period fencing, or gleefully pursuing a plethora of proud-to-be-a-geek activities.
You can find out more, and follow along with future work news, at http://www.xerjester.com.
Price: $2.99 USD
First 20% Sample: epub | mobi (Kindle) | lrf