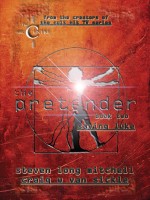 Saving Luke, Book 2 in The Pretender series of novels is an edge-of-your-seat thriller about a brilliant human chameleon named Jarod who, after escaping from the notorious Centre, must draw upon all of his Pretender skills in a race against time to rescue a kidnapped little boy and stop a huge disaster that could claim the innocent lives of his relentless pursuers from The Centre.
There are Pretenders among us, geniuses with the ability to become anyone they want to be. In 1983 a corporation known as The Centre isolated a young Pretender named Jarod and exploited his genius for their 'research.' Then, one day, their Pretender ran away…
Now comes the exciting climax to the first fully original, mystery thriller novel, The Pretender – Rebirth – the return of Jarod, Miss Parker, Sydney and the nefarious, clandestine activities of the Centre, in The Pretender – Saving Luke.
Authors Steven Long Mitchell and Craig W. Van Sickle, have encored with a return tome sure to please not only returning fans of the original TV series but also new readers unfamiliar with the world of The Pretender.
The Pretender – Saving Luke again features a brilliant human chameleon named Jarod, who uses his dazzling mind and unequaled abilities to save a kidnapped boy and thwart a deadly plot threatening the innocent lives of hundreds.
In The Pretender – Saving Luke, Jarod continues his search for the truth about who he is and to explore freedom with the pure wonderment of the man/child he is.
But much like the challenges Jason Bourne faces, seeking answers about his identity and taking care of the wrongs he's trying to right, Jarod's path is fraught with roadblocks from those who want to recapture him.
Leading the Centre hunt for Jarod is the sexiest woman on the planet, the complex, bitch-on-wheels, Miss Parker. Theirs is a pursuer/pursued relationship bound together by emotional ties, mutual scars and an unspoken passion for each other.
Alongside Miss P on the Centre side of The Pretender – Saving Luke, is Sydney, Jarod's surrogate father figure and Centre psychologist who raised Jarod and nurtured his genius for the Centre's disreputable purposes. But in The Pretender – Saving Luke, Jarod's patience with Sydney roils with anger over lack of answers to Jarod's past and the identity of his natural birth parents he was stolen from.
The Pretender – Saving Luke, is at once an enthralling tale of one man's exploration of life around him, intricate suspenseful mystery and intense edge-of-your-seat thrill ride – a fast-paced read that captures and ramps up the cult hit TV series for both the loyal generation of Pretender fans and for a new generation of readers discovering what many before them already have…
There are Pretenders among us…
About Craig Van Sickle
Steven Long Mitchell
Craig W Van Sickle
Steve Mitchell and Craig Van Sickle have written, produced and/or directed over two hundred hours of prime network programming including such series as Alien Nation, Murder She Wrote, Medical Investigation, 24 and NCIS. From situation comedy to drama, comic books to mystery, science fiction to action-adventure, their career has covered a broad imaginative spectrum. Together they have also created numerous television series, most notably, NBC's The Pretender on which they served as Executive Producers for its entire five-year run of episodes as well as a series of two-hour movies.
In addition to series television Mitchell and Van Sickle have also written and produced numerous long form productions — both mini series and MOW's as well as feature films.
In 2008 they were nominated for an Emmy Award for Outstanding Mini-Series as the Writers/Executive Producers on Syfy Channel's, TinMan, an updated reimagining of The Wizard of Oz that, in addition to its critical acclaim, has broken ratings records both domestically and internationally.
In October of 2013 the team released their first novel, The Pretender-Rebirth and have just released the second novel in the series, The Pretender – Saving Luke, available now.
Both reside with their families in the Los Angeles area and can be contacted through their web site, ThePretenderLives.com.
Price: $6.99 USD
First 20% Sample: epub | mobi (Kindle) | lrf