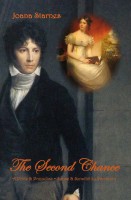 Soon after the Netherfield ball, a troubled Mr. Darcy decides to walk away from a most unsuitable fascination. But heartache is in store for them all, and his misguided attempts to ensure the comfort of the woman he loves backfire in ways he had not expected…
Soon after the Netherfield ball, a troubled Mr. Darcy decides to walk away from a most unsuitable fascination. But heartache is in store for them all, and his misguided attempts to ensure the comfort of the woman he loves backfire in ways he had not expected…
Why is it that the worth of a true blessing is never felt as keenly as when it seems to have become quite out of reach? In this tale of 'Pride & Prejudice' meets 'Sense & Sensibility', Mr. Darcy is compelled to reflect on this very question, as he struggles to come to terms with the effects of his wrong choices, and fervently hope for a second chance at finding happiness.
"Well, Sir, what shall it be? The joy of music or of the printed word?" she asked, in a manner so highly reminiscent of their past interactions as to make him almost giddy with renewed hope.
"The joy of you! My greatest folly was to ever walk away from it!"
About Joana Starnes
Joana Starnes is the author of 'From This Day Forward – The Darcys of Pemberley' – a 'Pride and Prejudice' sequel – and 'The Second Chance' – a 'Pride & Prejudice' ~ 'Sense & Sensibility' Variation, previously known as 'Steady to His Purpose'.
A medical graduate, in more recent years Joana has developed an unrelated but enduring fascination with Georgian Britain in general and the works of Jane Austen in particular, as well as with the remarkable and flamboyant set of people who have given the Regency Period its charm and sparkle.
Joana lives in the South of England with her family.
Price: $5.99 USD
First 20% Sample: epub | mobi (Kindle) | lrf