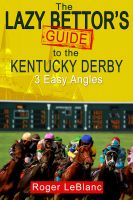 Master horse racing's oldest and most perplexing puzzle! This guide, for beginners and experienced bettors alike, touts simple strategies for selecting Kentucky Derby winners. It's a fun, fact-fueled journey that blazes a path to wagering profits. Roger LeBlanc, a former writer for The Racing Times, shares his insights from studying the past 22 years of the Kentucky Derby.
The Kentucky Derby reigns as racing's most perplexing puzzle. But that's about to change. "The Lazy Bettor's Guide to the Kentucky Derby" sifts through Derby history to reveal profitable betting strategies for this challenging race.
Noted handicapping author Mark Cramer calls the book "revolutionary" and a "milestone."
With anecdotes and insights aplenty, the Lazy Bettor's Guide amuses and informs. Roger LeBlanc tosses surprising stats and colorful analogies onto the page like savory breadcrumbs. Beginners and experienced bettors alike travel a well-baited trail to wise wagers and eye-popping profits.
Along the way, you dodge dangerous Derby myths, out-of-control speed demons and unworthy betting favorites. You see the Big Bang theory heisted from the annals of science, reshaped, renamed and loaded into a starting-gate stall.
Saddle up! This entertaining handicapping journey leads you to a unique view of racing's past and future champions!
Price: $18.95 USD
First 15% Sample: epub | mobi (Kindle) | lrf