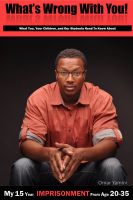 "….prison is not the trembling, "What's that noise; somebody's going to hurt me" fear. It's the fear of being kept, treated, and controlled like an animal. It's the fear of losing your human dignity." It is a must that young people understand this. It must register in their minds that in prison are men in their 50's still serving time for something stupid that they were convicted of as teens.
What if you were locked in a confinement cell and forced to live with a psychopathic rapist and murderer because the guards wanted to teach you a lesson, or forced to live with a sick, perverted child molester who got excited every time he watched children's programs on TV.
"….prison is not the trembling, "What's that noise; somebody's going to hurt me" fear. It's the fear of being kept, treated, and controlled like an animal. It's the fear of losing your human dignity."
I have written this autobiography of my 15 years in prison to give people, especially our youth, the reality of prison life and it's harmful culture – to take away any glamour or illusion that media has portrayed. Throughout my autobiography, I take the reader through my years in the Illinois prison system from the unpredictably chaotic county jail awaiting trial, the disturbing and abnormal thinking and behavior of those surviving in maximum security, and the many absurd encounters I've had with inmates as well as relationships with family and friends.
About Omar Yamini
My name is Omar Yamini, and I was charged in 1996 at 20 years old, sentenced in 1999 and sent to the penitentiary. I was raised in a modest, respectful two parent household on Chicago's south side and attended a private school until the 7th grade. At age 11, my parents bought a home and moved our family to Dolton IL, a suburb of Chicago, so that we could have a safer environment in which to develop. My 5 siblings and I received love and support for any activities we were involved in as children and had wonderful childhoods. Our mother, a determined, hardworking, God fearing woman saw to it that her children were not only well provided for but had instilled in us the core principles of human decency that helped develop us into the adults we have become. My mother did her job well. We we're not at risk children in an at risk environment. We were safe but that safety still did not stop me from making terrible choices that would devastate my family and send me to the penitentiary for 15 years.
For four years I attended Thornridge High School and fell short of graduating by half an English credit so at the time of my arrest in 1996 I had no diploma or G.E.D. Determined to get anything I could out of a bad situation I signed up for GED classes immediately when I entered the Cook County Jail and during my prison sentence I took all of the educational courses that were available to me from 1997 until 2007. I am currently finishing my bachelors degree in Sociology at the University of Illinois at Chicago, and set to graduate in the Spring of 2014.
While in prison I watched young men ages 17-21 enter this non-productive environment desensitized and hopelessly defeated so I, along with a few others, helped coach them back to their human sensitivities by teaching them the principles of decency. Now that I have returned home a man whose fought the influences of prison culture for so long a time I make it my life's work to help deter our young people from making those same devastating decisions that landed me in prison. My book is a "WARNING"! Not just to young people but to all people so that you may clearly understand how these men are reshaped.
I currently am the founder and executive of both The Proper Perception, LLC and a non-profit, Determined To Be UpRight – both are dedicated to youth prison prevention.
The Proper Perception LLC is devoted to giving you, your children, and your students insight on the harmful culture of prison. Our goal is to keep young people from ever stepping foot inside a penitentiary. I currently have speaking engagements, workshops, and curriculum addressing violence and prison prevention available for groups, schools, or community centers. I am also the author of "What's Wrong With You" a book detailing what our society needs to understand about the reality of prison.
Determined To Be UpRight is a non-profit that aims to provide young men with new experiences that will motivate their creative thinking, challenge their minds and encourage them to excel. Determined To Be UpRight will counteract the harmful influences that are shaping our young men by establishing a safe haven for those who want to be free to grow. Through peer discussion, guest speakers, volunteering, cultural events and Determined To Be UpRight will counter harmful influences, and will broaden young men's minds so that they become assets to their families and communities
Price: $9.99 USD
First 20% Sample: epub | mobi (Kindle) | lrf