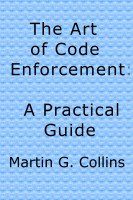 Nearly every political jurisdiction in America has adopted codes that regulate the built environment. This book is not a code but rather a practical guide for code enforcement administration. The topics range from voluntary compliance to effective sanctions for noncompliance and are of use to all those who are seeking to improve the maintenance of the building stock in their communities.
This text is primarily focused on the preservation of the existing building stock, both residential and commercial. In America, there are thousands of employees at many levels of government who are responsible for enforcing laws, codes and regulations designed to address the condition of buildings and property. None of these people earned a degree specifically tailored to code enforcement duties from an accredited institution of higher learning. There is no such degree. For 28 consecutive years of a 34 year career in the field, the author offered instruction to thousands of people on the issues involved in operating a code enforcement program. This book is a distillation of the notes and the education gleaned from both presenting those classes and from the information and insights shared by class participants. It is also based on the experience of managing these programs in Milwaukee and in New York City. The text provides options on how to handle many common issues encountered by code enforcement officials in their daily work lives. It is not a book about codes but rather a book about how to administer them.
The text covers general background issues such as why some property owners do not comply with the codes and how to set the appropriate level of code enforcement intensity for a community. The book then proceeds through the enforcement process from the least confrontational methods to the "Heavy Hammers" that could be used in the most resistant cases. Educational methods are explored as are the use of volunteers. All code enforcement involves some form of notice to a code violator and many methods are explained. While all communities rely to some extent on complaint response to trigger their processes, the methods are varied and can be supplemented by more systematic approaches.
The heart of code enforcement is the art of persuading a code violator to take action to remedy the violation with the minimal amount of official action possible. The text includes many proven persuasive arguments and techniques that can be used to get from "No" to "Yes." Not all enforcement actions result in compliance and options are presented for what to do next.
Code enforcement officials nationally are under the same budget pressures as all government services. How to raise revenue, control costs and communicate the worth of these programs to both community decision-makers and to the voting public are explained. Other topics include coping with politics, inspector safety, code enforcement in a university community, occupant behavior issues, coping with the media, inspector productivity indicators, career development ideas and techniques for implementing change. Finally, appendices include a variety of sample forms and letters that can be used in the code enforcement process.
About Martin Collins
Martin G. Collins attended the State University of New York at Albany where he received a Bachelor of Arts degree and Rutgers University School of Law where he was awarded a Juris Doctorate. In addition, he received a Masters of City and Regional Planning from Rutgers Center for Policy Research.
He has been employed in the Counsel's Office of New York City's Department of City Planning and in both staff and management positions with New York City's Housing Litigation Bureau. As Director of Operations for New York's Division of Evaluation and Compliance, Department of Housing Preservation and Development, he was involved in various housing loan and rehabilitation, tenant management and housing-related litigation programs. He has held the positions of Code Enforcement Administrator, followed by Construction Inspection Administrator, Deputy Commissioner and Commissioner for Milwaukee's Building Inspection Department, n/k/a Department of Neighborhood Services.
Mr. Collins is retired from the City of Milwaukee and from the practice law in Wisconsin, New York and New Jersey; he is an associate member of the American Association of Code Enforcement. He also retired from state certification in commercial construction and housing construction inspection. He is the past chair of the Wisconsin Fire Prevention Council and of Milwaukee's Drug House Abatement Oversight Committee.
From1984 through 2011, Mr. Collins annually taught Existing Housing Inspection Administration and Management at UW-Madison's Annual Professional Development Program's Housing and Building Inspection. He has been a member of and has chaired the AACE/ICBO Zoning Certification Committee and chaired the International Property Maintenance and Zoning Inspector Certification Examination Committee. Other instruction has been presented to groups sponsored by BOCA International, the International Code Council, the American Association of Code Enforcement, various state code enforcement associations and EDUCODE. He has received innovation awards in 1995, 1996, 1997, 1998, 1999 and 2000 for work in the code enforcement field. One of his innovations was awarded "Best Crime Prevention Program in Wisconsin for 2003." In 2009 the American Association of Code Enforcement awarded him the first Award of Excellence. He also understands that none of one's education, accomplishments, or experience is as important as how one applies it today and tomorrow.
Contact Information: mcolli53202@gmail.com
Price: $9.99 USD
First 10% Sample: epub | mobi (Kindle) | lrf