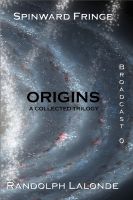 In the darkest region of explored space sits a bright beacon; Freeground Station. Serving as a supply and trading post it is home to a select number of human beings that will take a desperate chance to make a difference in their end of the galaxy. – Contains the entire First Light Chronicles Trilogy. A Space Opera Adventure enjoyed across the globe by all ages. [Final Revision]
About Randolph Lalonde
Born in 1974, Randolph Lalonde has worked in customer service, sales, played drums for several heavy metal bands you've never heard of, dealt blackjack in a traveling casino, and serviced countless computers. He's also owned businesses in the design, printing, collectible and custom computer fields.
He completed writing his first novel in the fantasy adventure genre at the age of fifteen and has been writing ever since.
He self published his first novel;
Fate Cycle: Sins of the Past in 2004 and after taking a break has begun to release his work again starting with the First Light Chronicles series.
Randolph Lalonde has sold nearly one hundred thousand eBooks to date, enough to keep writing full time. He is deeply grateful for his following of readers and strives to improve his skills to better entertain them. The Spinward Fringe Space Opera series has proven to be his most popular offering.
He currently resides in Sudbury Ontario where he's working on his latest batch of creations and building a multimedia studio. The studio is already producing content, starting with the new Crewcast Radio show, a podcast based on Spinward Fringe and topics close to SciFi.
Crewcast Radio can be found here: http://www.crewcastradio.com
In his diminishing spare time he drags friends into his basement to participate in podcasts on Crewcast Radio, an Internet podcasting network he created by reader demand. You can find episodes on the website: http://www.crewcastradio.com
Price: Free!
Download: epub | mobi (Kindle) | pdf