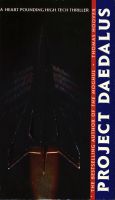 (Bantam Books 1991)
Publisher's Weekly
"Hoover's characters double-deal their way through settings ranging from the Acropolis to the inside of a superplane that skims the edge of space –- the ultimate in death-dealing. A secret agreement between the Russian military and the Yakuza, Japanese crime lords, threatens to shift the balance of world power."
Retired agent Michael Vance is approached for help on the same day by an old KGB adversary and a brilliant and beautiful NSA code breaker. While their problems seem at first glance to be different, Vance soon learns he's got a potentially lethal tiger by the tail -– a Japanese tiger. A secret agreement between a breakaway wing of the Russian military and the Yakuza, the Japanese crime lords, bears the potential to shift the balance or world power. The catalyst is a superplane that skims the edge of space –- the ultimate in death-dealing potential. In a desperate union with an international force of intelligence mavericks, with megabillions and global supremacy at stake, Vance has only a few days to bring down a conspiracy that threatens to ignite nuclear Armageddon.
Publisher's Weekly
"Hoover's adept handling of convincing detail enhances this entertaining thriller as his characters deal and double-deal their way through settings ranging from the Acropolis to the inside of a spacecraft. Michael Vance, formerly of the CIA, is on his way to an archeological dig when some old friends show up. First comes KGB agent Alex Novosty, caught laundering money that the KGB claims was embezzled – and he wants Michael to take charge of the hot funds. Then National Security Agency cryptographer Eva Borodin (who is Michael's ex-lover) appears with an undecipherable but dangerous computer file: the co-worker who gave her the file has since vanished. Heavies from a Japanese crime syndicate attack Michael and Eva, who are rescued by Alex, but it looks like Alex and the syndicate aren't complete strangers. Moreover, the mysterious Daedalus Corporation seems to be a link between Alex's money and Eva's file. As Michael is drawn into this deadly web, he realizes there is a secret agreement between the Russians and the Japanese – and it has nothing to do with tea-brewing customs.
Tags: Hypersonic, Superplane, Edge of Space, thermonuclear warhead, Supersonic, Space Plane, Crete, Minos, Palace of Minos, Greece, Greek Islands
About Thomas Hoover
Live in New York City. Have published nine books. All available from Smashwords or my web site.
Price: Free!
Download: epub | mobi (Kindle) | pdf