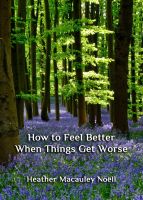 "How to Feel Better When Things Get Worse," is a written transcript from an audio program that explains how to easily move out of problems and into solutions in all areas of your life.
(A link to download the free audio program is provided along with the transcript.)
Most people recognize their desire for happiness, but very few understand how to experience true and lasting happiness.
For this reason people often pursue money, success, relationships or better health and fitness – but the experience of satisfaction is temporary because sooner or later you begin focusing on problems that you can't seem to solve. The most powerful way to access the deep state of peace and well-being that already exists within is to understand how to move out of problems and into solutions.
In this presentation you will learn specific tools that will inspire and motivate you to take action without taking any extra time out of your day.
Major Topics
• 3 Tools that will immediately move you out of focusing on problems and into solutions.
• Meditation with music and toning
• Where people get stuck – and how to change that forever.
• A new perspective that will permanently alter your relationships.
• Recognize where you get stuck and how to move forward quickly and powerfully
• Learn how to re-pattern your thoughts and feelings – and watch your experience change
• Feel peace and joy in minutes
• Live the life you've always wanted
• Understand the hidden power of love
• Learn how to 'tune-in' to your own deep wisdom
About Heather Macauley Noëll
I live in Sedona, Arizona, with my husband and daughter. Amelia is home schooled. We love riding horses and swimming with wild dolphins (whenever possible).
Price: Free!
Download: epub | mobi (Kindle) | pdf