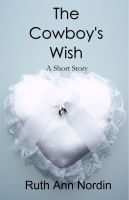 This is a light-hearted look at a cowboy who wishes for a wife…and suddenly gets one.
About Ruth Ann Nordin
I'm a stay-at-home mom of four school-aged boys and the proud wife of a veteran of the US Air Force. I live in a small Nebraska town where I am fortunate to spend my days creating new worlds with characters I fall in love with. I've written over thirty romances and have plans to write many more in the years to come.
Price: Free!
Download: epub | mobi (Kindle) | pdf